One of the key bits of information for keeping hardwood floors shiny is knowing what type of finish has been applied to the wood. Was your hardwood sealed with a polyurethane or polyacrylic urethane finish, or was it finished with a paste wax? If you don't know, here's a test to help you make the best cleaning choices:
In a spot with normal foot traffic, place a drop of water on the floor. If the water is quickly absorbed or causes spotting on the finish, this indicates the hardwood has not been sealed and should never be cleaned with water. But if the bead of water just sits on the surface without being absorbed, it means the floor hardwood has been sealed.
To test for a paste wax finish, grab some fine steel wool and rub it lightly over the floor in a corner. If the has been waxed, there will be a gray, waxy film left on the steel wool.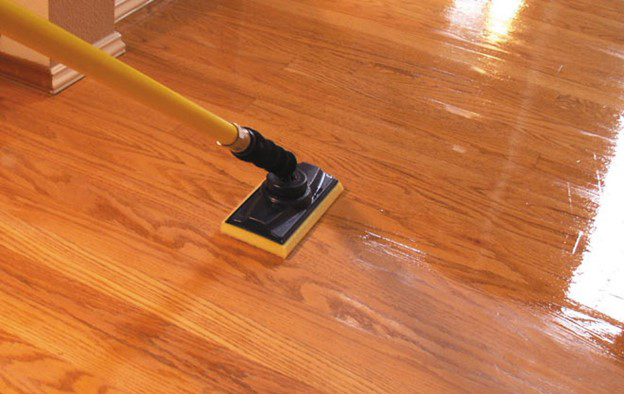 How to Clean Hardwood Floors and Make Them Shine
Unless you have neglected the floors for weeks and have mud and sticky messes everywhere, there is no need to damp mop more than four times per year, suggest experts from The Spruce.
With a lightly dampened microfiber mop, clean in the direction of the wood grain. Never use a sopping-wet mop because too much water can cause even sealed floors to buckle. For step-by-step instructions, follow these steps from Spruce.

How to Refinish Hardwood Floors?
Up until about 20 years ago, the "Swedish Finish" was the only way to go. Extremely high-performance, it worked well, but as a solvent-based product, it was highly caustic. Certainly not a do-it-yourself project, it required trained professionals and total evacuation for up to a week (including the houseplants!)
Sure Shine offers all that original wearability, durability and beautiful shine, without the toxic fumes and disruption to your life. Instead of solvent-based, it uses a water-based technology that is both environmentally and user-friendly.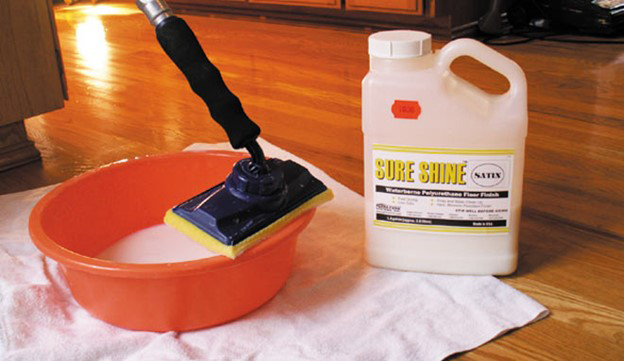 If you want a deep, clear finish using fewer coats, Sure Shine premium finish is the one to use!
Sure Shine can be used to re-coat older oil-based floor finishes. Sure Shine cures to a smooth, hard surface that resists scuffing and abrasion. It prevents discolorations from water and most household cleaners and chemicals.
How to Apply Sure Shine Hardwood Floor Finish?
This product shines even brighter from an application standpoint. It's easy to do yourself, and it dries so quickly (only one hour) you can apply it in one day. Sure Shine never yellows, is non-flammable and there are no fumes, which means there is no reason to suffer the inconvenience of vacating your home. Cleaning up your tools is a simple matter of a little soap and water. And when the work is done, you can walk on your new floor finish in 8 short hours!
More on application of Sure Shine here.
Order your free sample of Sure Shine in Satin or Gloss finish to try on your floor or your walls here.