Most people are accustomed to spring cleaning, but if you are a home owner, you know that your house needs attention year-round. Fall maintenance is much like spring house-cleaning but more preventative and less "cleaning." And it's much easier to do it now rather than wait until the weather turns nasty. The following advice for fall log and timber home maintenance is provided by Perma-Chink Systems, a long-time supplier of products for Honest Abe Log Home customers.
FROM THE TOP
Fall means leaves—and plenty of them. You will certainly need to clean out your gutters. A word of caution: most of the automatic guard systems only screen out large leaves while allowing gunk and small sediment to accumulate. You still will have to routinely clean the nasty rotting gunk out of your gutters! So an alternative is to have your roofer regularly come and clean your gutters every fall. You should make sure that the drainage area around the downspout is functioning properly as well. The roof area should also be checked for any leaks around the flashing at the chimney and around the vents for the heating or sewer system.
While inspecting the roof area it's important to check for any holes or access spots where squirrels, raccoons, or bats can enter your home and make themselves a vacation home for the winter. Clear away all debris from around the foundation of the house.
Caulking around all exterior areas is a must. You probably won't find but a few areas where the caulk needs replacing, and it's not a big job to replace old caulking with a fresh bead where needed. Weather stripping also should be examined and replaced if you find any that is curled or coming loose. Neither the caulking nor weather stripping replacement is a heavy job. It just takes some care and close examination. This can usually be done in a day for a moderate-sized home.
A QUICK SCRUB
Your exterior walls should get a good cleaning. In addition to making your home look great, a wash-down with Log Wash will get rid of the dust, dirt, and grime. Freezing weather is especially hard on log exteriors and a little bit of upkeep now may prevent costly repairs next spring.
Once your walls are clean, go around your home looking for signs of worn stain and failing sealant. If the stain looks faded or dingily, you should consider applying another coat of Lifeline stain and Lifeline Advance topcoat. Don't forget the topcoat is an integral part of the system and will help protect your home and extend the life of your stain.
SEAL UP NEW CHECKS
While you are at it look for any new checks that may have opened up, especially on the top half of round logs where water can enter. Our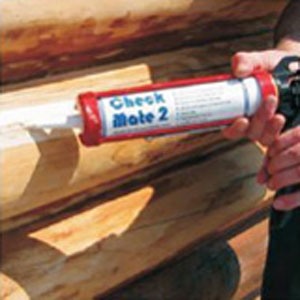 Check Mate 2 comes in a variety of colors and is the perfect solution for closing up those potentially damaging checks.
Properly sealed joints and gaps go a long way in preventing cold drafts during the winter months. In these days of rapidly rising fuel prices it is important to keep cold air from entering your home. Energy Seal is specifically designed for this purpose. Pay special attention to places where wood meets masonry. Reseal with Energy Seal. In addition to saving you money on heating bills, it will help to keep your home warm and comfortable.
FIREWOOD STORAGE
Many log home owners have fireplaces or wood stoves that they use to create an attractive atmosphere or as a source of heat. Typically fall is the time of year that most people build their inventory of firewood to carry them through the winter. Here are a few things to keep in mind when storing firewood: Never store firewood on your porch or deck or next to your home. One thing is for certain, along with the firewood comes a whole community of insect pests. Although some like wood roaches, pill bugs, centipedes and ground beetles are harmless, infestations of wood boring beetles, termites, and frequently carpenter ants, can start from stored firewood piles.
Store your firewood at least two feet away from the side of your home and keep it off of the ground. This helps keep the firewood dry and allows air to circulate throughout the wood pile. When you bring firewood inside, only bring in as much as you plan to burn in a day. Firewood stored by the fireplace may look attractive but once the logs warm up and the bugs start to emerge, you may think otherwise.
Preparing your home for winter in the fall can make life so much easier for you in the cold, dark winter weeks ahead. You'll rest easier knowing that you won't have to fight the elements when the inevitable emergency or problem crops up, as it always does. You can sit back in front of your fireplace with your family and enjoy those cold months secure in your well-protected home!
Log homes and autumn leaves seem to go together. Enjoy the season and don't hesitate to contact us at 1800-548-3554 or by email at techservice@permachink.com if you have any questions about maintaining your log home.